.
The 13th Sharjah Biennial was launched on March 10 at the Sharjah Art Foundation (SAF). Entitled Tamawuj, meaning ebb and flow in Arabic, this edition curated by Christine Tohme was not just conceived as a multiple-venue exhibition. It also considered reflection, research, and collaborative processes – across countries and over an extended timeframe – as an integral part of the biennial offering.
This clearly resonated in the March Meeting 2017 held at the SAF on the day following the opening of SB13 that saw Christine Tohme in conversation with Lara Khaldi, Zeynep Öz, and Kader Attia. These interlocutors were invited to interact with the region during the biennial's preparatory phase and explore four keywords: water, earth, crops, and culinary. Kader Attia extensively discussed his off-site project Vive l'Indépendance de l'Eau (Long Live the Independence of Water), a two-day event held last January at Cheikh Anta Diop University (UCAD) in Dakar.
SB13 is spread over seven areas across Sharjah, three of which prominently feature works by African and Diaspora artists or are dealing with topics related to the continent. One of the SAF outside spaces in Al Mujeirah Square presents +/- 1791 (Monument to the Haitian Revolution, 1791) (2017) by Dineo Seshee Bopape, a recipient of the Sharjah Art Biennial Prize and Future Generation Art Prize. Her installation consists of an assortment of material drawn from Black spiritual practices collected from various places in Africa and Palestine, combined with herbs from Sharjah known for their healing and protective qualities. The assembled cinderblocks, bottles, and rock clays create a variety of patterns and structures, accompanied by a soundscape. The piece refers to the Haitian Revolution linking liberation struggles and African spirituality.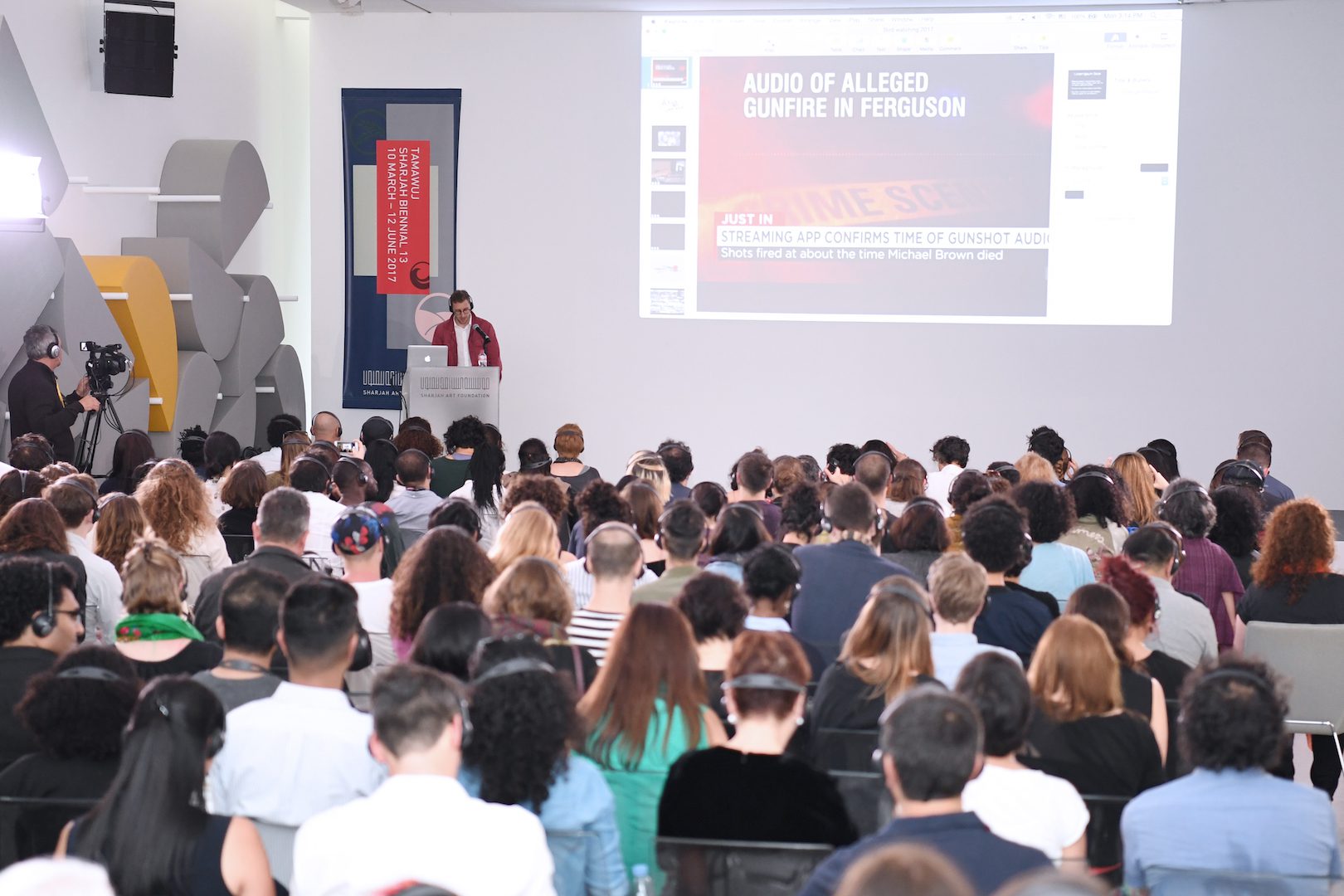 Among the works proposed in the venues around Calligraphy Square is the breathtaking Saydnaya (the missing 19db) (2017) by Lawrence Abu Hamdan, who also gave a compelling lecture-performance at the SAF. His new commission uses audio forensics to reconstruct the conditions experienced by inmates at Saydnaya, a Syrian facility detaining political prisoners, where emitting the slightest sound is punishable by death
Also of note is Uriel Orlow's two-channel video, one of which, The Crown Against Mafavuke (2016), revisits the 1940 trial of Black South African herbalist Mafavuke Ngcobo accused by the white medical establishment of using plants for traditional medicine.
At Al Hamriyah Studios, SAF's new off-site space, Ursula Biemann and Paulo Tavares's Forest Law (2014), a multi-channel video installation and material on the Sarayaku people's legal battle against the deforestation, oil and mining exploitation of their land in Ecuador, represents a forceful statement on nature as a living entity entitled to its own rights.
The ecosystem is also materialized in Em'Kal Eyongakpa's works Breathe II (2013) and Rustle 2.0 (2016). Eyongakpa happens to have studied botany and ecology in the early 2000s in Yaounde, well before venturing into the arts, and nature has long been part of his multimedia experiments. His work is an immersive experience triggering visual and auditory senses. Developed since 2010 between the Congo Basin and the Amazon rainforests, the installation includes a sculpture representing a pair of lungs (alluding to both human and vegetal breathing patterns) and a subtly animated lights composition synchronized with a soundscape of life in a dense forest, from biotope to human interventions like chainsaws, falling trees, and air traffic.
My final pick is The Otolith Group's amazing The Third Part of the Third Measure (2017), commissioned by the ICA Philadelphia and SAF. A 50-minute video, it consists of a performance of Julius Eastman's Evil Nigger (1979) by Rolf Hind, Zubin Kanga, Siwan Rhys, and Eliza McCarthy. Their performance is introduced and followed by the speech Eastman gave at Northwestern University in 1980, adapted by Dante Micheaux and Elaine Mitchener, respectively as an opening and closing statement. The piece is a tribute to the queer African-American avant-garde composer whose "ecstatic militant minimalism initiated a black radical aesthetic that revolutionized the East Coast's new music scene of the 1970s and 1980s." It also challenges the white musical establishment that failed to acknowledge his talent when he was alive. But this is not merely a commemoration of the past. The score's relentlessness, its hooks, its refrain, are a call to arms, in the words of the artists. It is a weapon of the present geared towards the future.
Dedicated to the memory of British writer, critic, and cultural theorist Mark Fisher who recently passed away and to The Movement for Black Lives, this tribute speaks to present-day militancy and the spirit of defiance that needs to be maintained both in the socio-political and creative spheres.
The Emirati region provides an interesting vantage point from which to look at the world beyond the Euro-American angle. In this context, the Sharjah Biennial is a dynamic place of encounter between contemporary arts from the Middle East, Africa, and Asia. Although Christine Tohme's captivating March Meeting conversation with its calling into question of the art institution and traditional biennial format does not always reflect across the SAF galleries, overall the biennial manages to bring together sets of shared concerns – at a time where the "Muslim ban" imposed by the Trump administration makes it all the more important to continue engaging with cultural productions from – and showcased in – the MENA region.
Sharjah Biennial 13, Act I, Sharjah Art Foundation and multiple venues, continues to 12 June 2017 with parallel projects in Istanbul, Ramallah, and Beirut. SB13 Act II launches in Beirut on 19 October 2017.
Christine Eyene is an art historian, critic, curator, and researcher in Contemporary Art at the University of Central Lancashire.