C&: Why an art show explicitly for African art?
Touria El Glaoui: When we started in 2013, it was about a lack of visibility of contemporary African artists. I think cultural events like 1:54 always function as a bridge, and it seems especially now they are more important than ever. We also think NYC didn't have such a platform before, a city that has the world's largest number of museums as well as academic institutions, scholars, and artists in general. But I am saying confidently: one day 1:54 may no longer be needed. In the recent past we have collectively seen how curators, scholars, and artists change the ways art history is written.
C&: As someone who represents 1:54, what is art, what does it mean to you?
TEG: (laughs) Art is everything. Art means a lot to me. It is my background, my education. I am also the daughter of an artist. It's a very broad question. My first love is painting, but as a fair we are open to everything. And we have had amazing projects exhibited during our past editions. We started performance in NYC last year. For some reason, sculpture has been a bit difficult because of logistical reasons.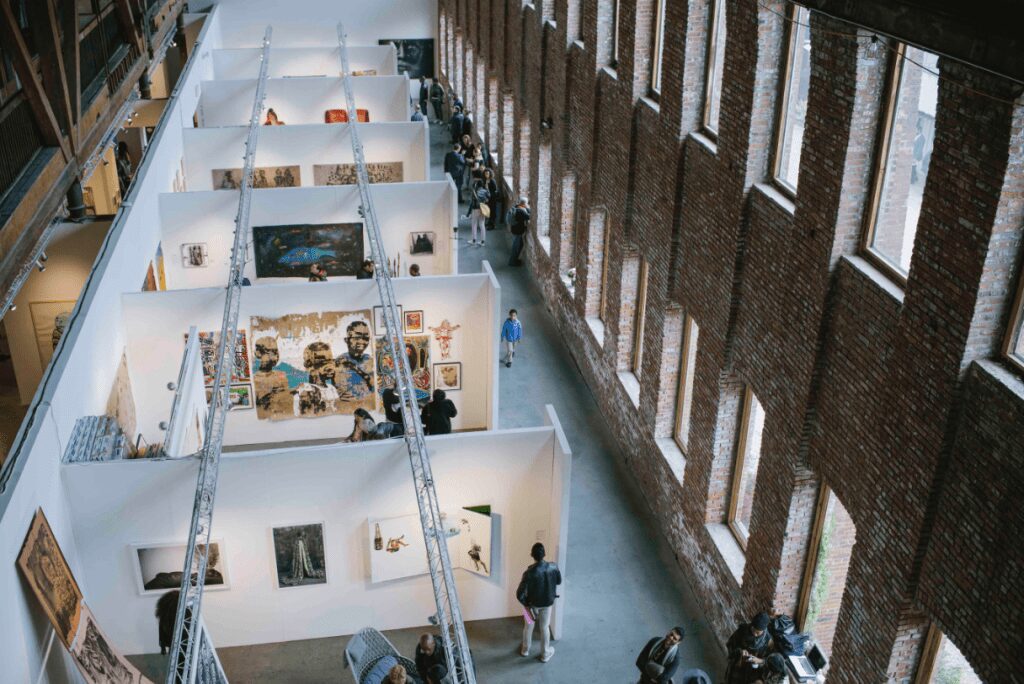 Aerial view, 1:54 New York 2016 © Katrina Sorrentino
C&: How do you position yourself within the complicated legacy of European art history? How do you make sure not to reflect certain stereotypes?
TEG: It's a big responsibility. I always have a problem with being the first non-Western art show and being evaluated with "first-lens" parameters. When I started, there was no other option. There was a lot of criticism around labeling art from Africa. But the problem was that most artists from the continent were not part of fairs, art history, etc.
And I do agree that creating categories for artists can be very limiting. But at 1:54, we celebrate the differences and we are very proud of what Africa has achieved. We want people to understand that this is what the platform is about.
C&: You said earlier that one of your hopes is that 1:54 will become obsolete at some point. Could you elaborate on that?
TEG: Honestly, it is already happening. I wanted my galleries to be invited to other fairs as well. Mariane Ibrahim from Seattle started out with us but this year she did the Armory Show instead of 1:54. And that is a superb achievement. I am extremely happy for her. More and more artists and galleries are being accepted to participate in art fairs and that means more visibility for collectors and the general public.
C&: What are your ambitions for the continent?
TEG: I am very happy to announce that Marrakech will host the first 1:54 Africa in February 2018. We don't know if it will happen in Marrakech every year, it's a pilot run. But there are amazing art fairs growing all over the continent, for example in Nigeria, South Africa, Senegal, and this is very exciting.
Magnus Rosengarten is a filmmaker, journalist and writer from Germany. He lives in New York City and currently works towards his M.A. in Performance Studies at NYU.