Magnus Rosengarten: What is the relevance of "Conversations at Morija"?
Lerato Bereng: "Conversations at Morija" was started as an attempt to create a platform for engagement with Lesotho's creative community. The first of these conversations focused on opening a dialogue between the Morija Museum & Archives, visitors to the Morija Arts and Culture Festival, and the country's Diaspora. Owing to what has been termed "the national brain drain," the question of Diaspora seemed pertinent in order to understand the reasons for such a large percentage of creatives operating outside of the country's borders. It also permitted further possibilities for exploring a more fluid exchange between what is happening within the country and outside of it.
MR: You also seek an audience that isn't necessarily the typical art crowd. 
LB: When conceptualizing the project, I knew that a static exhibition would not work, and what was important for me was for people to speak. So I created a set of simple interventions: instructions on the wall inviting people to enter the space, grab a drink, sit in front of a computer screen, and either read from a cue card with suggestions of questions that would initiate the conversation, or for those more confident, direct a question of their own to one of the speakers. I knew that I didn't want the format to be like a Skype panel discussion where I am the interviewer directing the conversations. I wanted the people themselves to engage. I set up a few computers with their own Skype addresses in the same room and got them all on a group chat. I wanted people to feel as though they were having one-on-one conversations with the speaker on the other end.
MR: Dialogue, conversation, and the idea of storytelling seem to be crucial components of "Conversations at Morija." Who is telling the stories? And what kinds of stories?
LB: The second "Conversations at Morija" (2015) took storytelling as its point of departure. This was a result of me asking the Morija Museum and the Festival team what they would benefit from discussing. It became clear to me that, after the first event, there needed to be more direct engagement with the local community and showcasing of what is happening locally in relation to presentations by artists from outside the country. The stories that were shared were those created by Morija and Maseru artists. The visiting artists that I invited to take part in the project shared stories about stories and storytelling: videos, photographic archives, and how to tell stories with little means.
MR: "Conversations" focuses on the visual arts. What content do you see portrayed in the works presented at the recent festival?
LB: There was an interesting array of topics presented. Simon Gush's, Kemang Wa Lehulere's, and Penny Siopis's talks addressed storytelling through film, looking at histories, different versions of the same story, and the question of fictions and re-imagining them. Ruth Sacks's presentation focused on a body of work around text, combining design, language and bookmaking in the form of a work of visual art. George Mahashe told us a story about a fictional character who occupies his creative process. Kabelo Malatsi spoke about telling a story in the form of curatorial processes that require zero budget – ways to work with no capital. Local filmmakers including Patrick Rorke, who runs the Linotsing animation studio in Morija, presented short experimental animations to a large audience for the first time.
.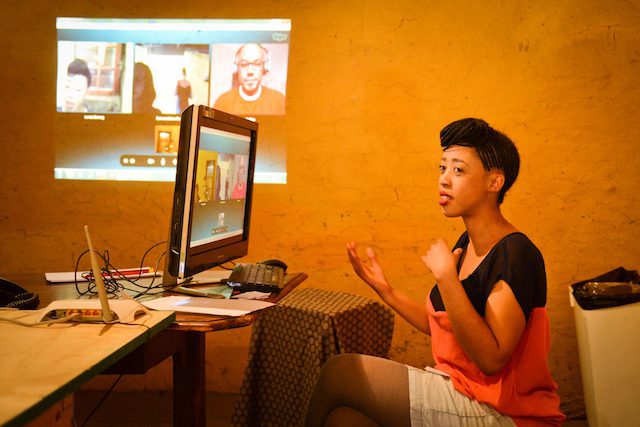 Conversations at Morija #1, 2013. Lerato Bereng, curator, in a Skype conversation with Kojo Baffoe, poet, writer and then-editor of Destiny Man magazine. Photo: Zachary Rosen, Ba Re e Ne Re Literature Festival
MR: You are from Lesotho. How would you describe your upbringing and coming of age there as a person invested in the arts? Did you have sufficient access to knowledge and support?
LB: I grew up surrounded by a creative family. My uncle is one of the country's most celebrated authors, so I was fortunate to be surrounded by creatives. The Sesotho language is laden with some of the most poetic and expressive figures of speech. The Basotho people speak in songs, puns, and idioms. Expression and storytelling are key to our culture in a nation formed on creativity and diplomacy. A Mosotho architect, Mphethi Morojele, who I invited to Skype in for "Conversations at Morija I," once told me about how growing up in Lesotho impacted his creative growth. He spoke of the mountainous landscape of the country and how it taught him and other architect peers to understand space, curvatures, and lines. There is something to be said about growing up in one of the smallest kingdoms in the world that has managed to survive against all odds.
MR: The fact that there is no access to higher education in the arts forces many artists and creative people to leave and study abroad (in South Africa, for example). What impact does this have on the artists' working process and creativity? Do you see any connection?
LB: I, too, was sent to boarding school in South Africa, and can say that this was the first time I considered art as not just something I was good at, but a real interest to take seriously. I completed my tertiary education in South Africa with a Masters in Fine Art. I think it is an interesting position to be in. Having unknowingly birthed my creative perspective in Lesotho and only being able to develop it outside of Lesotho makes for an unexpected approach to artmaking and curating. Personally, my curatorial obsession is with space, the absence of it, and carving these spaces and accessibility through language – verbosity bores me. This can all be attributed to what I would term my un-severed umbilical cord to Lesotho. My approach to writing, speaking, curating always starts from a conversation with my extra-art-world parents. If they get it, it works.
MR: What did your event teach you about the relationship between arts and politics? How do artists keep their sovereignty?
LB: Well, this year's project was inspired by Hans-Ulrich Obrist's question at his "Brutally Early Club" in Johannesburg this year: "What is urgent to you?" After thinking about it for a while I spoke of the political situation in Lesotho, which resulted in the cancellation of last year's festival and thus the absence of a "Conversations in Morija" that year. Financially, the festival was unable to happen last year and this year owing to the political instability in Lesotho and the government pulling the base funding for the event. Locally there are no avenues for funding creative projects, and it is only with the support of a few corporations locally and institutions across the border that things are able to happen. Obrist's question was pertinent to me because I realized that I don't have to wait for major funding for the festival platform. The conversations only need an audience and content, and that was a great success this year. It happened on a no-budget plan: I invited a few artists to drive down to Lesotho, my parents accommodated us all, equipment was kindly loaned to us by The Hub, and the Morija Museum and Archives team spread the word far and wide through an existing network and provided refreshments for everyone.
MR: Where do you see "Conversations" in five to ten years?
LB: My hope is that in five to ten years, "Conversations at Morija" will only be one of a myriad of events in Lesotho for this kind of dialogue. More and more it is becoming important for the conversations to steer themselves into whatever they are meant to become and for every person involved to take ownership of the project. Maybe in a few years we will start looking at guest curatorship, connecting Morija not only with South Africa but the rest of the world.
.
Magnus Rosengarten is a filmmaker, journalist and writer from Germany. He lives in New York City and currently works towards his M.A. in Performance Studies at NYU.