FAVT: Future Africa Visions in Time is an exhibition project of the Bayreuth Academy of Advanced African Studies. The exhibition content derives from discursive collaborations between invited international artists and resident researchers within the Academy, resulting in innovative conceptual research that traverses aesthetic and scientific approaches. Positions generated through this collaborative process also question the results and processes of academic research by aesthetically complicating them.
Through intensive conversations, artworks and conceptual positions were developed that critically engage with, reflect on, interpret, imagine, intervene into, disturb, translate or anticipate the concepts of the Academy's current general theme "Future Africa: Visions in Time", cutting across its five sub-projects: "Beyond Europe: Narratives of the Future in Modern African History", "Visions of Nature Concepts of Appro- priating and Conserving Nature", "Middle Classes on the Rise: Concepts of the future among freedom, con- sumption, tradition and moral", "Concepts of Future in Mediaspaces" and "Revolution 3.0 – Iconographies of social utopia".
Since its inception, various artists and cultural pro- ducers have participated in and contributed to the work at the Bayreuth Academy as Fellows and guests. Together with the Bayreuth-based researchers, case studies and empirical results as well as conceptual insights were generated relating to thematics such as "hope", "utopia", "dystopia" and "prognosis" amongst others. Intersecting processual devices, such as "intervening", "imagining" and "anticipating" have been developed through consultation and curation since 2014. These notions which are entries from a collective glossary developed by members of the Academy, form the structure of the show and function as bridges connecting the artworks and positions in the exhibition.
The exhibition "FAVT: Future Africa Visions in Time" provides a discursive platform for the research output of the Bayreuth Academy, mutually engaging researchers, artists, the University of Bayreuth, and the general public. The exhibition includes photography, installations, soundscapes, projections, text and performance and will be accompanied by a series of publications and activations, such as guided tours and thematic talks.
Curated by Katharina Fink, Storm Janse Van Rensburg, Nadine Siegert
Artists: Emeka Alams, Rui Assubuji, Sam Hopkins, Cédric Ido, Délio Jasse, Miriam Syowia Kyambi, Ingrid La Fleur, Kitso Lynn Lelliott, kara lynch, Kiluanji Kia Henda, Ato Malinda, Tumi Mogorosi, James Muriuki, Zohra Opoku, Abdi Osman, Simon Rittmeier, Ruth Sacks, Moses Serubiri, Paul D Miller aka DJ Spooky, Kae Sun, Fabio Vanin.
Researchers: Erdmute Alber, Susan Arndt, Sybille Bauriedl, Ute Fendler, Katharina Fink, Michael Hauhs, Constantin Katsakioris, Lena Kroeker, Prudence Mbofana Kupakwashe Mtata, Dieter Neubert, Nadja Ofuatey-Alazard, Achim von Oppen, Peggy Piesche, Mariam Popal, Nadine Siegert, Florian Stoll, Annalisa Urbano, Ulf Vierke
Vernissage: Saturday, 7th of November 2015, Iwalewahaus Bayreuth

19h Opening and Vernissage in the presence of artists and researchers.

22h Performance SEFA by Nástio Mosquito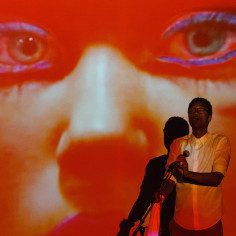 "Se Eu Fosse Angolano" (S.E.F.A.) is a conceptual audiovisual / live piece of work that, using contemporary society, draws a distinct tone when approaching, questioning and repositioning the usefulness of identity. All citizens part of "modern societies" on planet Earth, specially the ones living in communities that seek to reinvent themselves after decades of either inner individual conflict or civil blindness, are the target of this project. Not being a happy listen, it is full of hope and ambition for a better and greater future. A future that reaches beyond those nations to the people that make them.
Entrance: 5,-€
Guided Tours
19th of November 2015, 15h
5th of December 2015, 13h
17th of December 2015, 15h
23rd of January 2016, 13h
Blog Future Africa Visions in Time