Kauru Contemporary African Art Project presents Being and Becoming: Complexities of the African Identity, a contemporary art exhibition at UNISA Art Gallery, Pretoria from 25 May – 25 June 2016 curated by Paula Nascimento (Angola) and Raphael Chikukwa (Zimbabwe) in conversation with Bongani Mkhonza (South Africa), with public programming in Johannesburg and Pretoria.
Currently in its 5th year, the project continues to promote cultural diversity and stimulate discourse in Africa and internationally about issues affecting the continent using contemporary visual arts as a medium of engagement.
Being and Becoming: Complexities of the African Identity features works by some of the most prominent video and photography artists from Africa and the African diaspora including Yinka Shonibare, Robin Rhode, Ayana V. Jackson, Lerato Shadi, Kudzanai Chiurai, Thando Mama, Louis Kakudji, Irineu Destourelles, Yonamine Miguel, Délio Jasse, Nástio Mosquito, Mario Macilau, Helen Zeru, Mudi Yahaya, Edson Chagas and more.
Being and Becoming: Complexities of the African Identity is an exhibition of video and photography which examine the material and conceptual complexities of the African identity with themes interrogating race, gender, class, access, intersectionality, transformation and transcendence. The themes addressed in the exhibition are topical in the public imagination not only in the political realm but also within the creative sectors around the continent engaging the historical and political context of who we are and where we see ourselves going as Africans.
The exhibition hours are Tuesday – Friday, 10:00 – 16:00.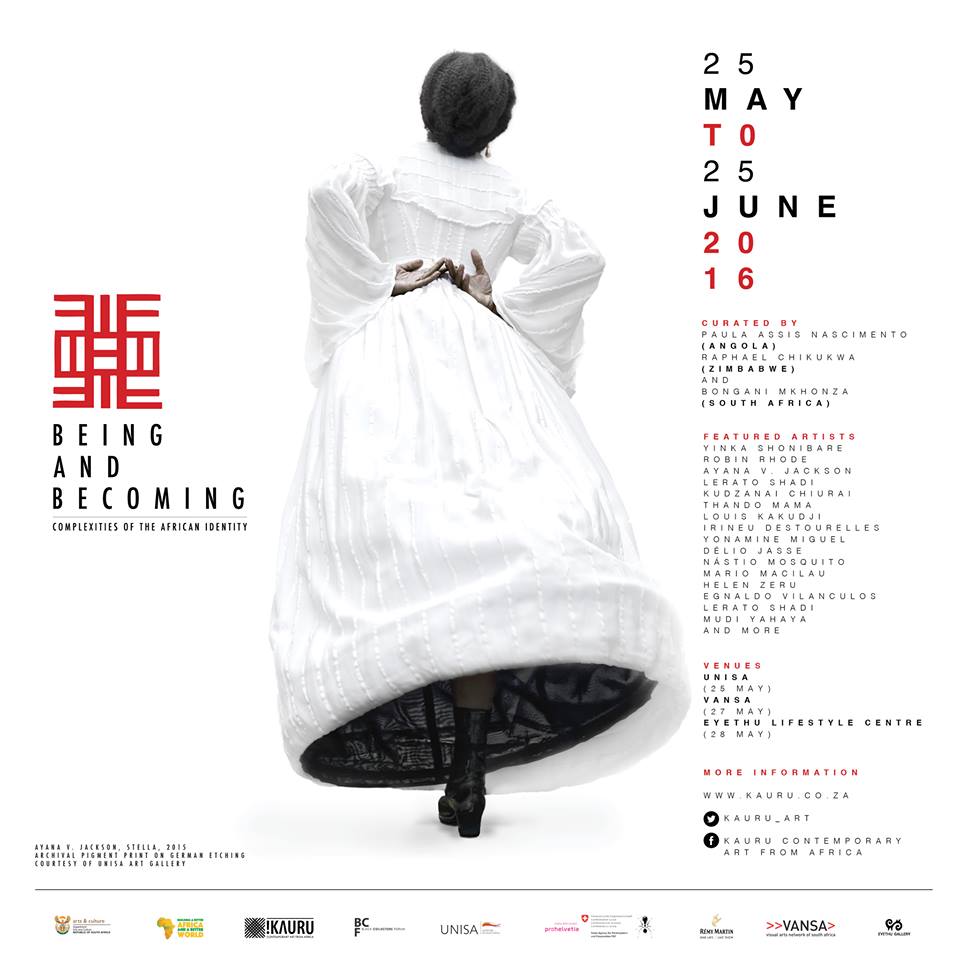 PUBLIC PROGRAMS
Walkabout with the Exhibition Curators
UNISA Art Gallery
Pretoria
Thursday, 26 May
11h00 – 13h00
!KAURU – PAN!C Panel Discussion and Raw Material Exhibition Opening
VANSA
New Doornfontein, Johannesburg
Friday, May 27
18h30 – 21h00
Afrika Day Cultural Festival
Eyethu Lifestyle Centre
Mofolo, Soweto
Saturday, May 28
10h00 – 18h00
School Tours and Workshops
UNISA Art Gallery
Pretoria
June, 1 – 24
All programs are free and open to the public