In recent decades, the concepts of History and historical time have been challenged on a fundamental level. With the collapse of master narratives and the postmodern turn in historiography, history can no longer be thought of as an ordered, regulated and linear continuum guided by Progress. In a seminal work published in 1997, A Thousand Years of Non-Linear History, the philosopher Manuel DeLanda proposed to envisage History not as a sequential chain of cause and effect, but as consisting of reversals and bifurcations.
If in recent years the figure of the artist as historian has massively entered artistic practice, it originally sparked as many discussions about the protocols of historical inquiry, the constructivism of historical facts, the unstable boundaries between fiction and history, the index value of the archive, the monumentalization of Memory. Moreover, it is starting from methodologies which delineated the writing of history, such as anachronism, bifurcation, alternate history and reconstitution, that artists exacerbated the movement to deconstruct the sequential representation of historical time. Summoning concepts from this historiographical renewal,the event A Thousand Years of Nonlinear History focuses on alternative temporalities put forward by artists to rethink the staging of History (potential, speculative, retrospective, projective and retrocipative histories).
With: Kapwani Kiwanga / Mario Garcia Torres / The Speculative Archive (Julia Meltzer and David Thorne) / Deimantas Narkevicius / Mariana Castillo Deball / Olivier Debroise / Monica Mayer / Louis Henderson / Christine Meisner / Yael Bartana / Rania Rafei & Raed Rafei / Santu Mofokeng / Mathieu K. Abonnenc / John Akomfrah & Black Audio Film Collective
Encounters with: Ingrid LaFleur, Louis Henderson, Françoise Vergès, Monica Mayer, Yael Bartana (sous réserve), Zofia Waslicka, Mathieu K. Abonnenc, Estelle Nabeyrat, Rasha Salti, Christine Meisner, Annabela Tournon
Curated by Aliocha Imhoff and Kantuta Quirós
Venues: Centre Pompidou, Institut Culturel Mexicain, Ecole des Beaux-arts de Paris, Ecole des Beaux-Arts de Nantes Métropole, Le Cinématographe Nantes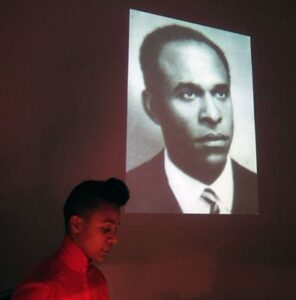 Kapwani Kiwanga – AFROGALACTICA: A Short History of the Future, performance, 2011-2012, Courtesy the artist
Performance 'Afrofuturism' by Kapwani Kiwanga
Wednesday November 6, 2013

Centre Pompidou – 7pm – Cinema 2
Performance, 40', 2011-2012
With the presence of Ingrid LaFleur, curator based in Detroit, USA.
Commissariat : Aliocha Imhoff et Kantuta Quirós
Kapwani Kiwanga, in the role of an anthropologist from the future, comes back on Afrofuturism and on its involvement in the development of the future Space Agency of the United States of Africa. She draws on archives from the past while projecting a science fictional future.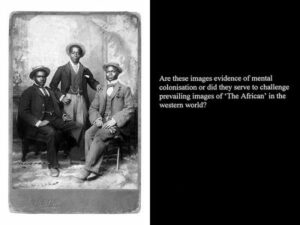 Santu Mofokeng, The Black Photo Album/Look At Me 1890-1950, diaporama, Courtesy the artist and Maker Studio
Persistences: Santu Mofokeng / Mathieu K. Abonnenc / Christine Meisner within A Thousand Years of Non-Linear History . 
Wednesday November 27, 2013
Centre Pompidou – 7pm – Cinéma 2
With  Christine Meisner (artist, Berlin) and  Françoise Vergès (theorist)
Santu Mofokeng,  The Black Photo Album/Look At Me: 1890-1950,  diaporama
Santu Mofokeng is one of South Africa's leading photographers. He began his career as a street photographer in Soweto and through the 80s he worked on the documentary coverage of the anti-Apartheid struggle. At the end of the decade, Mofokeng decided to leave the field of overtly political photojournalism and to engage in the representation of everyday-life in the South African township. With subjects as visually diverse as religious rituals, images of black identities or desolate landscapes, Mofokeng constantly subverts the comfort zones of racial and cultural memory, questions the politics of representation and the objectifying gaze of the photographer. The Black Photo Album/Look At Me: 1890-1950 is a series of digitally reworked 19th century, colonial portraits of Black South African families. "These are images that urban black working and middle-class families had commissioned, requested or tacitly sanctioned. They have been left behind by dead relatives, where they sometimes hang on obscure parlour walls in the townships. In some families they are coveted as treasures, displacing totems in discursive narratives about identity, lineage and personality. (…) When we look at them we believe them, for they tell us a little about how these people imagined themselves. We see these images in the terms determined by the subjects themselves, for they have made them their own." (Santu Mofokeng)
Mathieu K. Abonnenc  –  An Italian Film (Africa Addio)  (2012, 26 min)
Situated within Tower Works, a former steel pin factory and relic of the Leeds textile industry, is a new film installation by Mathieu Kleyebe Abonnenc. Abonnenc's work places its critical focus not upon the industry of textiles, but on the industry of copper, and deals specifically with the colonial plundering of the rich copper resources in Katanga, a southern province of Congo with an enduring history of exploitation. Abonnenc's An Italian Film (Africa Addio) revisits the violence and brutality associated with the copper export that took place in Katanga. To access this turbulent history, Abonnenc deploys the Katanga cross, an archaic form of copper currency once prevalent throughout Africa. These crosses were heavily looted from the region during Belgian colonial reign, taken to fund the industrialisation of the West. Abonnenc puts ten copper crosses through a similar process of destruction and transformation, as his film depicts the artefacts being cut, melted down and recast within a foundry workshop in Yorkshire. Born in 1977 in Guyane (France). Recent exhibitions?: Triennale d'art contemporain / Intense proximité (2012), Foreword to Guns for Banta, Gasworks, London (2011), A Minor Sense of Didacticis, Marcelle Alix (2011), Orphelins de Fanon, La Ferme du Buisson (2011), Manifesta 8 (2010), Bielefelder Kunstverein (2013), Kunsthalle Basel (2013).
Christine Meisner  – "Disquieting Nature" (2012, HD, b/w, 28 min)
Disquieting Nature evokes incidents, which are drawn in the memory of nature. The video depicts the way in which the landscape of the Mississippi Delta had come into being. A landscape, due to its fertile soil, turned into the setting for area-wide agrarianization and forced farm labor. Around the turn of century the 'Delta Blues' appeared in Mississippi as a new fusion of African and European music traditions. It first was played by black seasonal farm workers, who, though slavery was abolished since three decades, had to deal with a segregated and racist society. Combining video footage with images drawn by hand, Disquieting Nature gradually uncovers the landscape and its music having been constantly witness of violent pervasion. The sound and structure of the blues and its narrative form were the starting point for the cooperation with American composer William Tatge. The hidden stories behind the filmed sites are told in form of an extended song. Music is always present, drives the story and thus gets the role of an narrative element rather than being merely soundtrack. A work emerged that intertwines images, music and lyrics to a stream of history washing acts of intrusion and violence on shore in the now.
Curators : Aliocha Imhoff & Kantuta Quirós. A Thousand Years of Non-Linear History  – Nov 6 – Dec 18, 2013 – Event produced by the curatorial platform  A people is missing  in partnership with the  Centre Pompidou, National Museum of Modern Art, FILM department, the  National School of Fine Arts in Paris, the  School of Fine Arts in Nantes, the  Cinématographe, Nantes, and with the support of the institutions, the  Région Ile-de-France, the  Polish Institute of Paris, the  Mexican Institute of Paris, Casa de Mexico Foundation.