The BRIT design project was led by Sir David Adjaye, founder and principal architect of Adjaye Associates, together with Jason Iley, BRITs Chairman and CEO and Chairman of Sony Music UK & Ireland, and Alice Beal, Sony Music UK.
The trophies are cast in solid glass, finished with a translucent, frosty effect. They take the form of Britannia, the female personification of Britain. But Adjaye designed an alternative to the character's traditional slender form.
"My take on the BRIT trophy is the manifestation of a great material forged in fire and shaped into the body of a woman. She is unique, and proportionally she is very different. For me, designing the award was an opportunity to question and explore – what is the nature of perfection and imperfection, what is the notion of beauty… it was exciting to transfer those ideas to a smaller object. Now, we have something that I really, really love; I'm very happy with it." said the architect.
For the 2019 statue, Adjaye partnered with progressive Czech glassmaking and design company LASVIT, who used a complex glass casting process to produce a completely unique set of statues.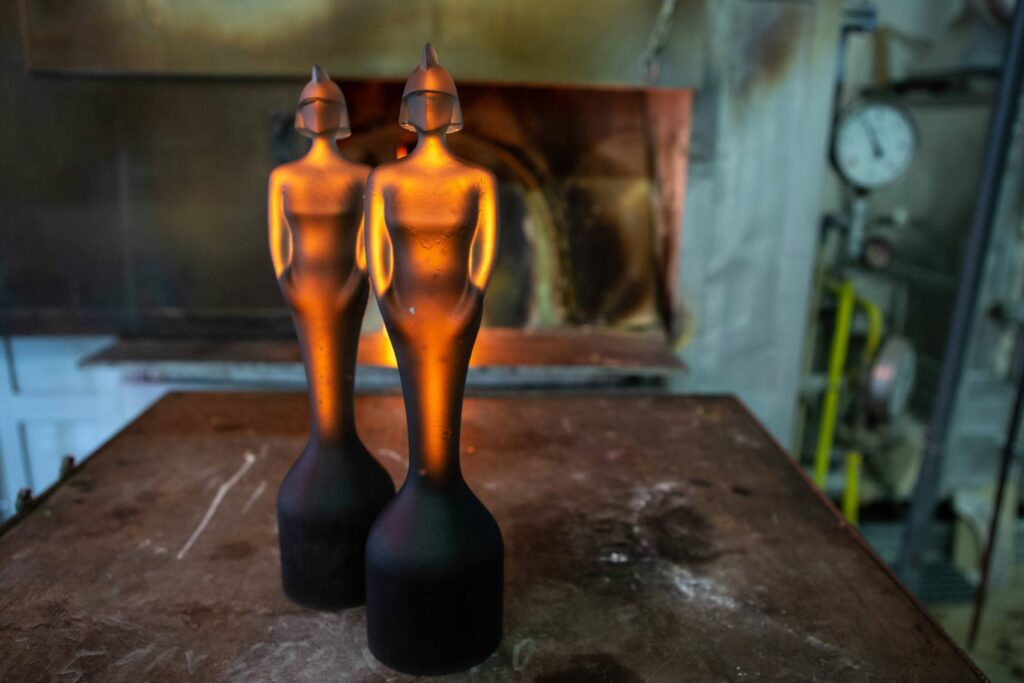 Sir David's appointment as the 2019 statue designer succeeds Sir Anish Kapoor and the late Dame Zaha Hadid, who designed the 2018 and 2017 statues respectively, completing a trilogy of world-renowned British creatives orchestrated by BRITs Chairman and Chairman and CEO of Sony Music UK and Ireland Jason Iley.
Jason Iley commented: "David's treatment has surpassed my expectations, continuing the transformation of the award, as well as building on the legacy of outstanding creativity over the past few years. BRIT winners on the night will take home a truly stunning piece of work that's totally unique to them with each award carrying its own individual and distinctive imperfections."
With a career spanning nearly 25 years, Sir David Adjaye is one of the world's leading architects, with an array of notable and award-winning projects across the globe. Rewarding creativity with creativity, the 2019 BRIT Award winners will be honoured with a timeless and unique piece of art on the night in celebration of their contribution to music within the past year, and his innovative design continues to raise the bar for the BRIT Awards as it approaches its 40th year.
The BRIT Awards 2019 with Mastercard will be broadcast live on ITV – Wednesday 20th February from The O2 Arena, London.