.
As an early C& contributor, I remember fondly the early days and excitement around creating a platform that would embody the richness and diversity of artistic practice on the continent and beyond. The energy felt in our brainstorming sessions was unrivaled. It's been so lovely to watch C& grow into such an important beacon for this artistic landscape, one that continues to innovate, educate and enrich. A huge congratulations! Cheers to many more years. Lots of love,
Stephanie Baptist (Curator and Editor, early contributor)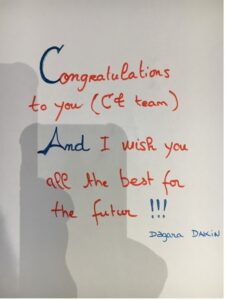 Dagara Dakin (Art Critic and Curator, early contributor)
I'm absolutely thrilled that Contemporary And (C&) is celebrating its 10th Anniversary. It was a fantastic experience to be part of the founding team back in 2013. C& embodies this idea of going beyond fixed notions of space. We've held the vision to be a platform for making connections, a place for the sharing of experiences and ideas. From then to now, the way forward into the future…What a beautiful journey!
Aïcha Diallo (Cultural Producer and former Managing Editor of C& (2012-2017))
I love Contemporary And, and Contemporary And loves you.
Thomas Lax (Curator, Writer and C& Board member)
Congratulations Congratulations Congratulations. Its been lovely seeing the growth of C& until now it's hard to imagine an art scene without it…
The & …..
& a person
& an exhibition
& an essay
& an artist
& an art work
& news…
This & on C& opens up such a myriad of possibilities and care towards practices of black and people of colour in the art world… the &, always waiting to include, to nurture,  to collaborate, to build, … this is the magic of C& for me.
Congratulations once again
My very best too, Immy
Immy Mali (Artist and C& Commissions Artist)
C& since its inception has been focused on facilitating the visibility of artistic practitioners from Africa and its diaspora and in doing so became a valuable resource and network. This is a great milestone, Congratulations!!!
Kabelo Malatsie (Curator)
C& gives us a generative and endlessly expanding collection of scholarship, artworks, and perspectives that reflect us, excite us, and inspire us. Thank you for this generous space — to another 10 years!
Nomaduma Masilela (Artist, Curator, Writer)
The idea to create a digital platform on contemporary art (with African and diasporic artists and curators) was born more than 10 years ago in the context of a multi-part and multi-year art project. "Pret-a-partager" was an art project based on exchange, which started in Dakar with a 10-day workshop on Fashion & Urban Cultures with artists and curators from the African and European continents. The exhibition toured through seven African and two European cities, connecting new artists on the ground. In order to bring together information on contemporary art and to enable networking, it made sense to open a digital platform. The inspiration was the database for artists from the African continent, once founded by Christine Eyene, which was no longer active at the time.
Together with Yvette Mutumba we wrote the first conceptual ideas for the magazine and the platform and presented it to Irmgard Fellner from the German Foreign Office. She was very enthusiastic about the idea and agreed to provide initial funding. Julia Grosse joined them and together with Yvette Mutumba, who both acted as chief editors from then on, the concept was refined and quickly developed into the lively, constantly growing C& platform with all its ramifications. Christine Eyene and Bisi Silva were the ones who advised us in the development and I still remember our meeting with the wonderful Bisi Silva in London, where she predicted a great future for C&. As can be seen from this brief origin story, C& was born from the will, strength and expertise of women who believed in and promoted the idea and were committed to international networking.
I would like to thank Julia Grosse and Yvette Mutumba from the bottom of my heart and all my colleagues from the C& network and especially Aicha Diallo, who had a great impact on the magazine in the beginning with her ideas and commitment. I am grateful to ifa, whose art department I headed for ten years and which provides the basic structure for the  publication of the magazine.
C& is now a worldwide supporting network, a dynamic platform for contemporary art that lives from the impulses and contributions of numerous authors and artists and is constantly evolving like an organic mycelium.
Elke aus dem Moore  ( Art Historian, Curator and founding member of C&)
And suddenly C& arrived and brought perspectives to light, new connections and ideas. A space for theoretical, reflective and artistic encounters. A space that links the African diasporan thoughts in a fluid and complex way. That's what I think these past ten years have been, and I expect great futures from those pages.
Paula Nascimento (Architect, Curator)
10 is a crossroad (as we know), here's to more risk taking, more response-able fun And And And Long Live!
Gabi Ngcobo (Curator)
Statement: We Were all Strangers
Every time I press on my memory for the earliest encounters with C&, it selectively and unabashedly rearranges the order of things. Sometimes it is the weather that I vividly recall, other times hopes revived, but I am invariably bound to an ocular experience. I cling to the nostalgia of accidental beginnings: we were all strangers, gathered in the backyard of a town house after a workshop—youthful, lean, and in possession of perfect hairlines. It was 2016. Shrouded in the evening glow of Nairobi's summery breeze, nibbling at snacks and washing the flavor down with soda and warm beer, we waited for glory. But soon reality hauled some of us back to our actual conditions: we had pens but no bread.
Although my mind was curious, my eye and spirit were famished. I knew one or two neighborhoods, had grasped Nairobi's urban topography, and mastered my irregular paths that led to schools I attended and to markets. But I was ignorant of life, of the possibility of existence of alternate Black realities, which are realities shared by those in the Kenyan countryside, across African borders, and even in the diaspora. Time has fragmented and I have come to soak my sight and senses in newly discovered colors, lights, and shadows. Years later, I wonder what might have changed. What would have been my career trajectory if C& never entered my life?
My pen is as heavy as a sledgehammer and I still await glory.
Enos Nyamor (Writer, former C& mentee and long term contributor)
It is hard to separate the beginnings of C&, this vast and energetic online project, from the joyous triumphs of the 2013 Venice Biennale. Remember that? Angola was awarded the Golden Lion for best national pavilion for its marvellous takeover of Cini Palace. Virginia Chihota and Zanele Muholi participated in confident group shows hosted by South African and Zimbabwe. The Ivorian artist Frédéric Bruly Bouabré had examples of his work in both the main curated exhibition as well as the national pavilion for Ivory Coast. And, as important, the late Bisi Silva formed part of the five-women jury at the biennale. Amidst this flurry of activity, it was easy to miss a small, fold-up sheet promoting a new online magazine called C&. What they created was a Biennale-map of Venice listing all artistic participations from African perspectives. Founded by Julia Grosse and Yvette Mutumba, C& formed part of a new, feminist-led wave of creative enterprise aimed at restating the terms of African art in the new millennium. Beginnings matter. C& started life as an online magazine focused on art from Africa and its diaspora. It is now something much bigger, a platform championing Black expression in the global south, and beyond. It has an office and huge network. It has respect. C&'s standing as a leading source of information and opinion owes a great deal to the hustle and enterprise of Julia and Yvette, as well as their selfless vision for their project. Recognising that the story they wanted to tell the world was a plural one, C& reached out and empowered a diverse and polyphonic network of collaborators. I was one of them. Aside from my semi-regular journalistic contributions to C&, in 2016 I travelled to Nairobi to co-host a C&-sponsored writers' workshop. The energy of the young and worldly participants was infectious, as was their enthusiasm to write their own histories. Here's the thing: writing talent needs support and community. C& has shown uncommon commitment to nurturing new voices representative of a future already here. I salute you, dear team, for the generous gift of C&.
Much love,
Sean O' Toole  (Journalist, Editor, Long term contributor from the beginning)
Contemporary And is our memoir of Love.
Thiago Paula da Souza (Curator and Educator)
From day 1 to day 3650, I have valued learned form and shared the brilliant work produced at  C&.
As a space for knowledge exchange, brilliant, as a space for enquiry outstanding, but what I hold C& most dearly for is that it creates and sustains a beautiful sense of community. Thank YOU!
Happy Birthday
Mark X
Mark Sealy (Curator, Art Historian)
C& has been a pillar in my life since I moved to Berlin.
Every Friday, I look forward to the morning ritual of reading the C& newsletter while having the first coffee of the day.
C& has been my partner of thoughts, inspiration, with groundbreaking interviews which nourished my curatorial praxis.
Since 2016, when I started as director of ifa Galerie Berlin, I wanted to change the gallery and transform it into a research and exhibition platform to address the status quo/ colonial structures in the everyday. I could not have imagined a more relevant and precious partner to start the untie to tie program at the ifa Galerie and actually, before I even started, the first person I consulted were Yvette and Julia.
We launched together the untie to tie program 5 years ago with the opening of the Center of unfinished business. It was a blessing to make this very first opening speech to start a new chapitre in ifa Galerie, transformed into a platform to investigate colonial structures in contemporary societies, together with Yvette and Julia. The Center of unfinished business transformed the whole experience of visiting the ifa Galerie. It is to this day, one of the most powerful contribution to an exhibtion space and it is wonderful that the Center traveled in several spaces and comes back to the ifa Galerie Berlin for its anniversary.
I am forever grateful for the amazing voices C& invited for the panel discussions, for the outstanding event they organized, and so much fun. The party organized back then in Acud was fantastic. And that's nothing compared to the epic Dakar party C& hosted during the Dakar Biennale.
Thank you for supporting me in this journey, thank you for making me think, laugh, learn and dance.
Thank you for choosing me to be on your side to celebrate your 10th anniversary, I look forward to the next decades together (and to reading you tomorrow morning ;)
Alya Sebti (Director of ifa-Galerie in Berlin)
Happiest 10th C& – the "and…" is everything; you are Contemporary + possibility, curiosity, criticality, and most vitally, you provide a genuine embrace holding the arts of the Global Majority. Here's to the next ten!
Zoe Whitley (Curator)