Founded by award-winning photographer Aida Muluneh, the Addis Foto Fest was established in 2010 and organized by Desta For Africa Creative Consulting PLC. In its fourth edition, the Addis Foto Fest is the first international photography festival in East Africa and is recognized as one of the leading photography festivals on the continent.
Held every two years, the Addis Foto Fest takes place in Addis Ababa, Ethiopia from December 15-20st, 2016. The fourth edition's collection features 126 photographers from 40 countries across the globe with the objective of bringing together emerging and leading photographers during the weeklong event. The main objective of the Addis Foto Fest is to promote the global exchange of images in order to educate, inspire and foster understanding as it relates to photography from Africa and the global photography community.
Each day of the Addis Foto Fest offers multiple events; not only are there featured exhibitions, but there will also be portfolio reviews, a conference and discussion panel, a live performance and exhibition at Fendika, as well as our inaugural Addis Foto Fest Awards ceremony. Winners of the AFF Awards will receive special prizes including an EOS 5D Mark III Canon Camera, Pixma MG6840 printer with paper and ink, and a Pixma IX6840 printer with paper and ink. These planned events offer local and emerging photographers with the rare opportunity to engage with international curators, scouts, and professional photographers. We strive to engage our audience by providing multiple platforms for them to explore the power and language of visual aesthetics as they relate to modern society.
Since the first edition of the Addis Foto Fest in 2010, over 20,000 audience members have taken part in our combined previous editions. Our main goal for the fourth edition is to explore the power of the image in a global setting, and to engage a larger audience not only through our local exhibitions in several venues around Addis Ababa, but also through the promotion of our activities via prevalent online networks and media partnerships across the world.
Addis Foto Fest is supported by Sheraton Addis, Canon, National Geographic, Vogue Italia, Kana TV, Art Africa Magazine, Selamta Magazine, and many other private, national and multi-national companies.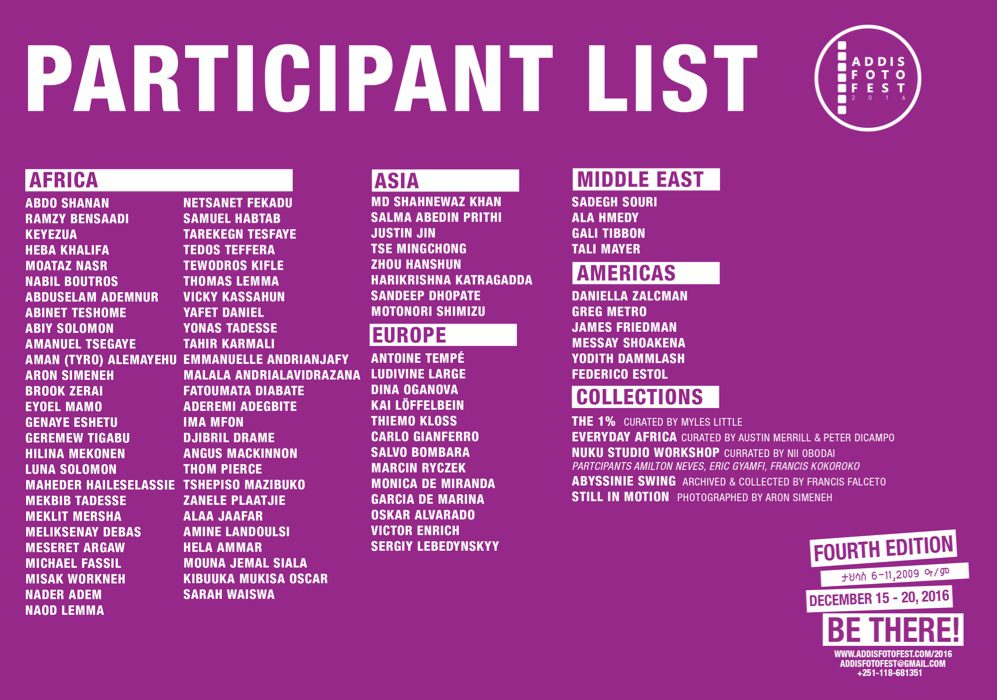 FESTIVAL PROGRAM
December 15th, 2016 
6:00pm- 11:00pm
Inauguration of Addis Foto Fest 2016 and official launch of "Photography in Ethiopia" collection at Sheraton Addis (invitation only).
.
December 16th, 2016
9:00am – 8:00pm – "Photography in Ethiopia" and Addis Foto Fest 2016 main exhibition opens to general public at Sheraton Addis, through Dec. 18
3:30pm – 5:00pm – "AtWork Public Lecture" by Simon Njami and Elena Korzhenevich at Italian Cultural Institute Addis Ababa
.
December 17th, 2016 )
9:00am – 8:00pm – Continuation of main exhibition
12:00pm – 3:00pm – "AtWork Addis" project exhibition opening at DinQ Art Gallery through Dec. 21
8:00pm – 2:00am – Aron Simeneh's Still In Motion Photography Exhibition and Cultural Dance Show opening at Fendika Cultural Center, through Dec. 25
.
December 18th, 2016 
9:00am – 8:00pm – Continuation of main exhibition
10:00am – 12:00pm – AFF Conference at National Museum of Ethiopia
1:00pm – 5:00pm – 1% Collection exhibition opening at Lela Gallery opens through Dec. 22
.
December 19th, 2016 
6:30pm – 9:00pm – AFF Award Ceremony at Marriott Executive Apartments Addis Ababa
.
December 20th 2016 
9:00am – 4:00pm – AFF 2016 Tour of Addis Ababa (participants only)
.