This years' "Armory Focus: African Perspectives – Spotlighting Artistic Practices of Global Contemporaries" is curated by Julia Grosse and Yvette Mutumba, of Contemporary And C&. They selected 15 galleries to show a single artist position, as well as eight artists whose Special Projects will be placed and presented throughout the Armory Show; part of the Focus will also be a Symposium examining the diverse practices of artists, curators and collectors from Africa and the Diaspora.
Now in its 7th edition, Focus is an invitational section on Pier 94 that spotlights the artistic landscape of a different region each year.
Moving beyond conventional ideas of the African continent and its "counterpart," "the Western hemisphere," this year's Focus will provide a glimpse of international artistic production from contemporary African viewpoints: emerging curators, artists, galleries and art spaces that connect scenes and markets through global networks. From Lagos to London to Luanda – and presented together for the first time in one location – this year's Focus will examine the artistic developments and manifold narratives arising from African and African Diasporic artists, emphasizing geographic fluidity and global connections.
.
Focus – Galleries:

Addis Fine Art, Addis Ababa: Emanuel Tegene
blank, Cape Town: Turiya Magadlela
Circle Art Gallery, Nairobi: Ato Malinda
Galerie Cécile Fakhoury, Abidjan: François-Xavier Gbré
Mariane Ibrahim Gallery, Seattle: ruby onyinyechi amanze
October Gallery, London: Aubrey Williams, Eddy Kamuanga Ilunga
Omenka Gallery, Lagos: Nengi Omuku
Galerie Jérôme Poggi, Paris: Kapwani Kiwanga
SMAC Gallery, Cape Town: Cyrus Kabiru
Tiwani Contemporary, London: Francisco Vidal
Vigo Gallery, London: Ibrahim El-Salahi
Galerie Tanja Wagner, Berlin: Kapwani Kiwanga
WHATIFTHEWORLD, Cape Town: Dan Halter
.
Focus – Special Projects:
A group of emerging artists from Africa and the Diaspora, providing a glimpse of a generation of young artists that are challenging preconceptions surrounding the notion of "contemporary African art."
.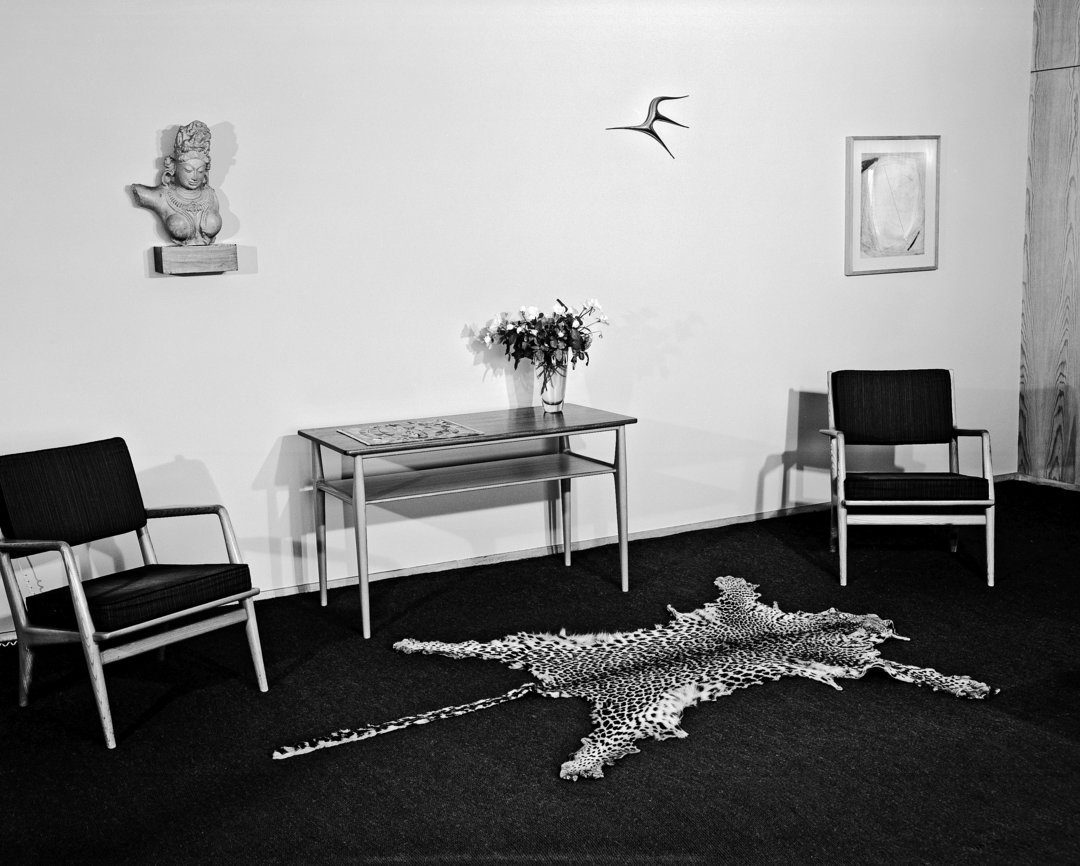 Kapwani Kiwanga, The Secretary's Suite, 2016
Mixed Media Installation
Presented by Galerie Tanja Wagner, Berlin, Booth 556
Pier 92: Front Lobby
UN Photo Courtesy Teddy Chen
The Secretary's Suite is an interactive installation that investigates the complexities of gift economies. The project's point of departure examines the history and tradition of gifted items within the United Nations' art collection and will be composed of a single-channel video and a viewing environment inspired by the 1961 office of the United Nations Secretary General. As part of this installation, visitors will be able to take a series of limited edition prints depicting gifts given throughout history. In addition to her on-site commission, Kiwanga will create a limited edition screen print benefiting The Museum of Modern Art.
.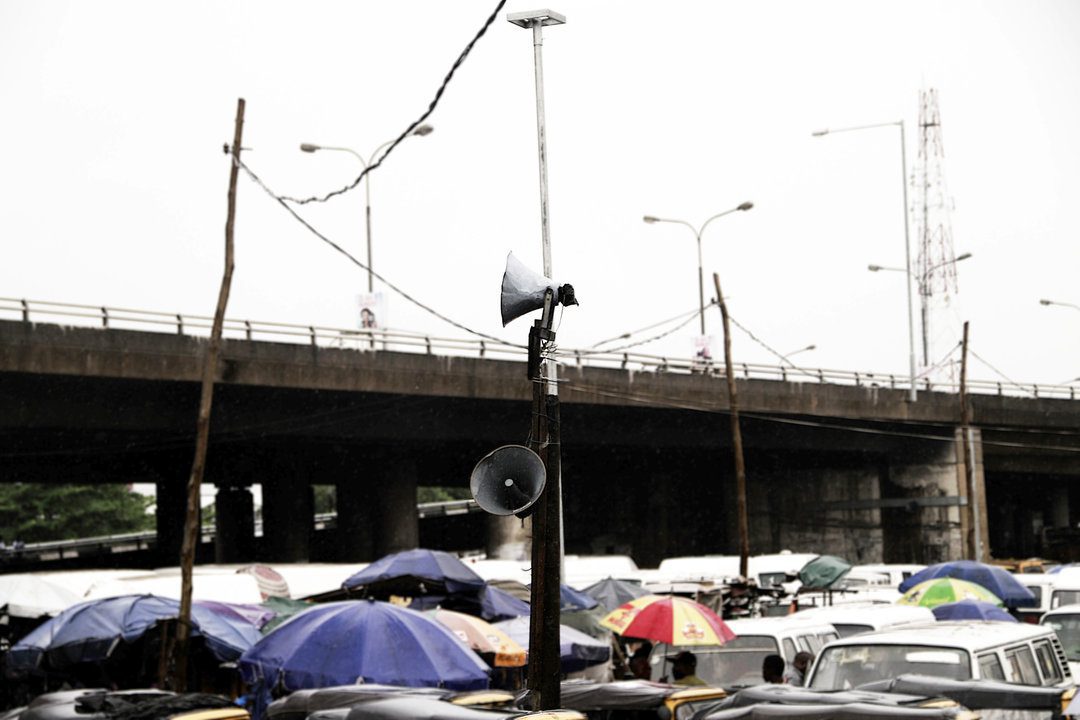 Emeka Ogboh, Oshodi Stock Exchange v 2.0, 2014/2016
Three-channel Sound Environment
Adjacent to Pier 94: Main Entrance
Oshodi v 2.0 is the latest iteration of Ogboh's Oshodi Stock Exchange series, which combines sound with objects to explore the informal economy in Lagos. The aural environment focuses on the soundscapes of a Lagos bus station and the unique voices of its occupants; primarily itinerant hawkers, mini-buses, bus conductors, and drivers, salespeople, cobblers, mobile dispensaries, and bus passengers. This iteration reenacts the ebb and flow of the resilient energies found in this unique social space, which acts as a parallel economic sphere governed by its own internal dynamics and systems. The soundscape of the bus station is accompanied by piano scores by Kristian Kowatsch.
.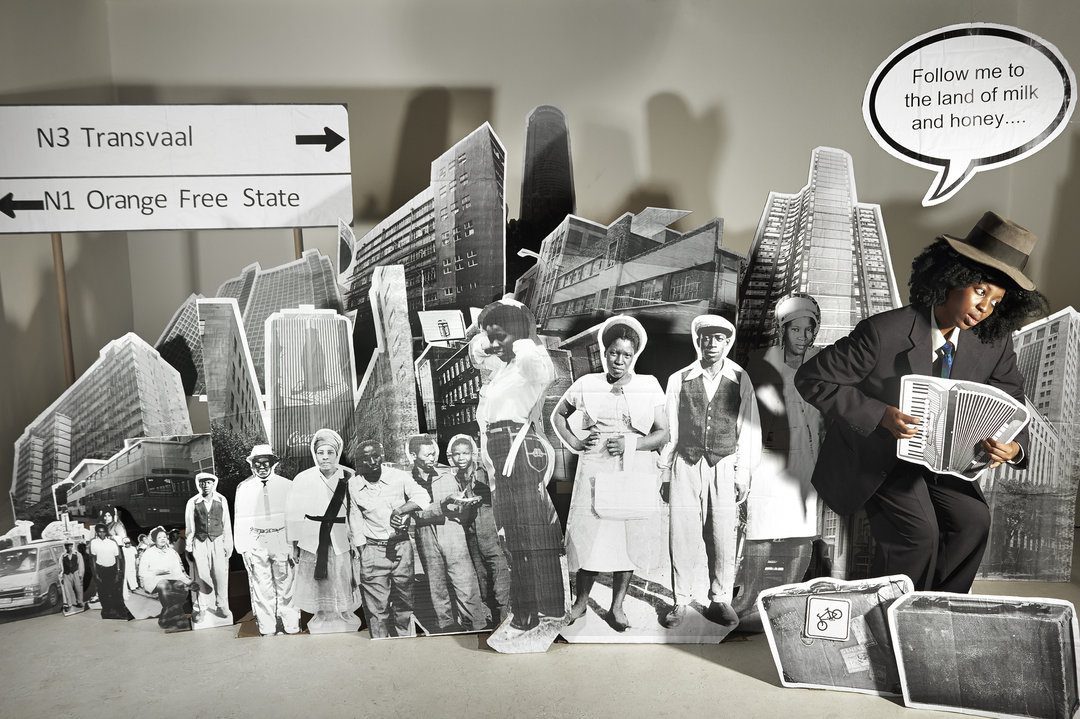 Lebohang Kganye, Pied Piper's Voyage, 2014
Single-channel Video
Presented by Afronova, Johannesburg
Pier 94: Focus Lounge
In the animation, Pied Piper's Voyage, Lebohang Kganye presents the culmination of a year's worth of research into the personal and collective histories of her family. In this work Kganye incorporates her signature black and white set-design to explore these histories through the personification of her grandfather. Kganye slips into his persona, dressing up as the patriarch, reimagining her family's historic narratives and addressing the shifts in her role as a woman providing for her family.
.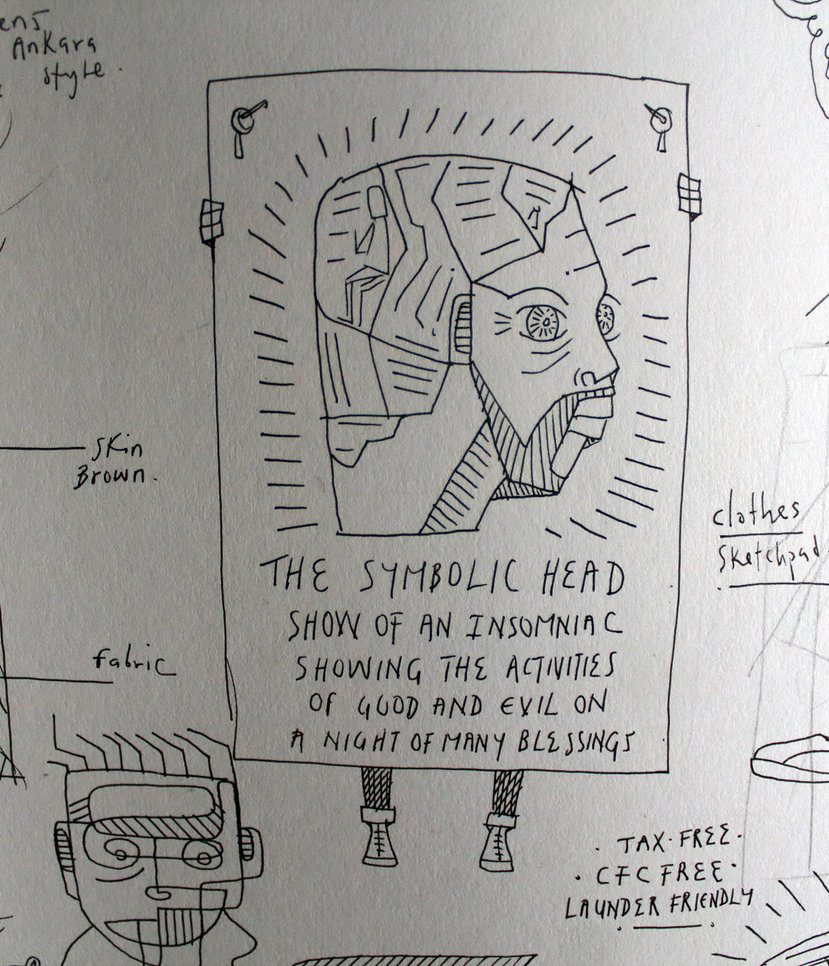 Karo Akpokiere, Alternate Art Fair, 2016
Mixed Media Installation
Pier 94: Champagne Lounge
Alternate Art Fair is a live-drawing performance that will unfold over the course of the fair and features a collection of real and imagined experiences through the perspective of a stellar cast of fictitious artists and galleries. The visual and written language common to art magazines, catalogs, classified ads, and spam mail, in combination with the daily happenings during The Armory Show, will serve as source material for the creation of the performative installation.
.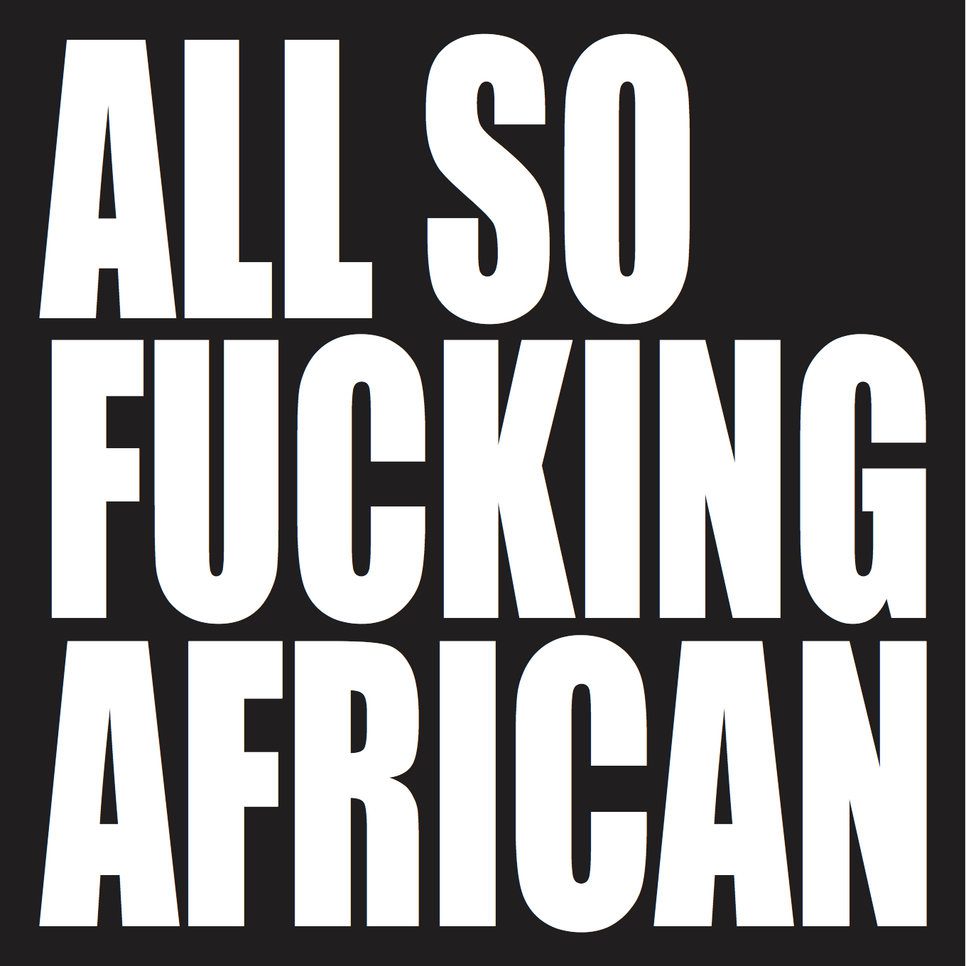 Ed Young, All So Fucking African, 2015
Mixed Media Installation
Presented by SMAC Gallery, Cape Town and Stellenbosch, Booth 630
Pier 94: Connecting Tent
Young presents ALL SO FUCKING AFRICAN, a site-specific installation that combines humor with unexpected materials as a part of a series of text-based works. Threaded throughout the work is a biting wit, which becomes all the more disarming when coupled with Young's cynical solemnity. The piece offers a multitude of layers with various double, even triple, entendres for the viewer to explore, while simultaneously critiquing the current automatic pimping of extrinsic cultures for the benefit of appearing as all-inclusive or alternative.
.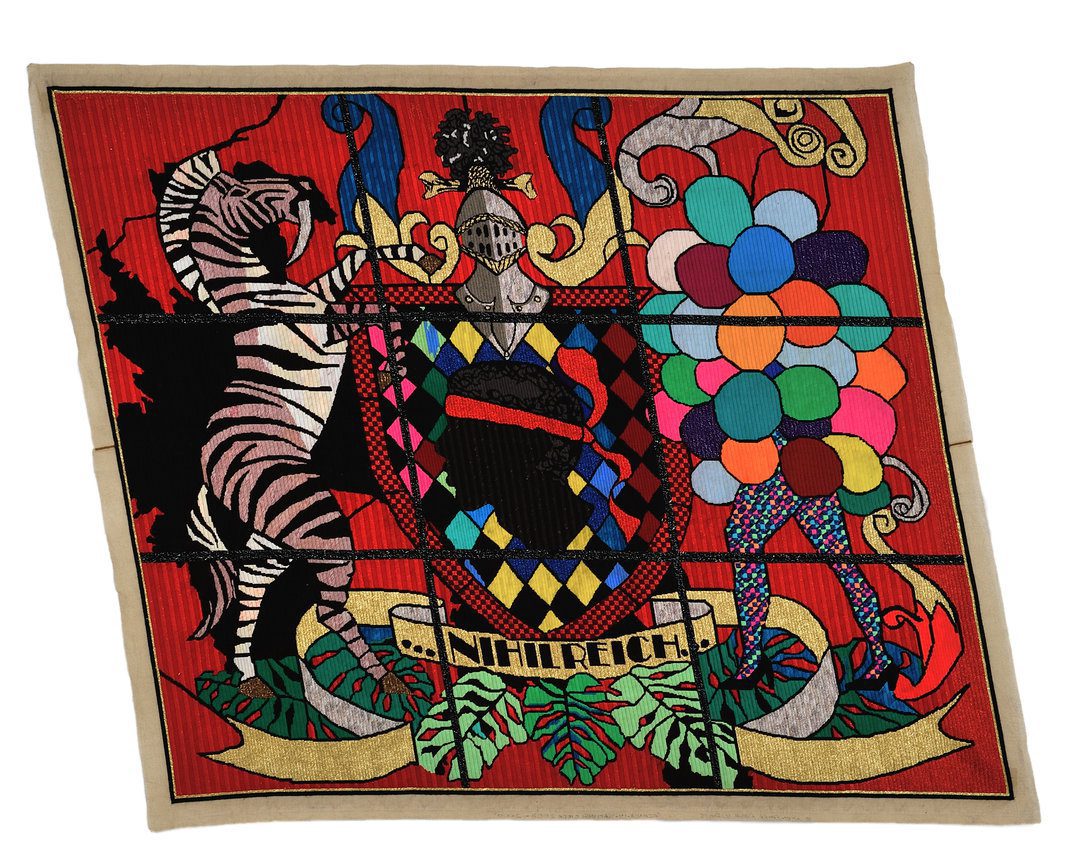 Athi-Patra Ruga, A Land Without a People for a People Without A Land, 2015
Petit point embroidery on tapestry canvas, acrylic, wool, and thread
Presented by WHATIFTHEWORLD, Cape Town, Booth 550
Pier 94: VIP Lounge
Athi-Patra Ruga's recent body of work is a complex narrative of subjugation, exile, migration, and eventual conquest. It is an arena of fantasy in which the artist explores the construction of the nation-state and the accompanying power dynamics that play out in the political and social environment. Working in performance, textile, photography, and sculpture, Ruga has adopted the trope of myth as a contemporary response to the post-apartheid era. Ruga creates alternative identities and uses these avatars as a way to parody and critique the existing status quo. Through the creation of an intricate personal archive, Ruga uses a surrealist lens to reinterpret Africa's imperialist past and its impact on the present.
.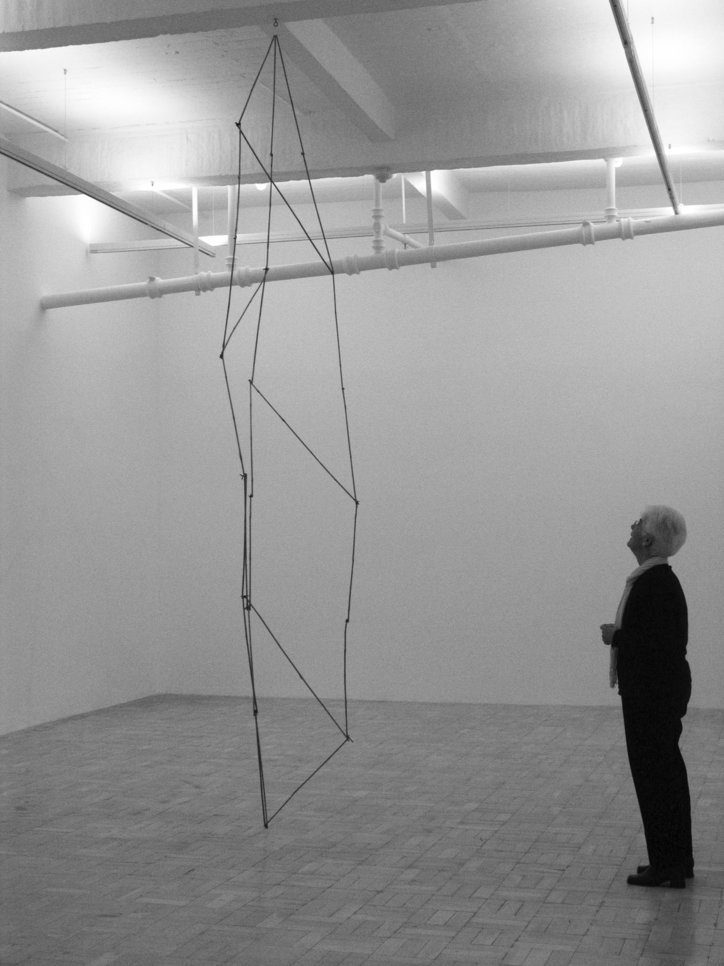 Jared Ginsburg, Loop with Bamboo [III], 2016
Mixed Media Kinetic Installation
Presented by blank, Cape Town, Booth 537
Pier 94: Focus Lounge
Loop with Bamboo III, first performed in 2009 and then again in 2012, is an example of the Jared Ginsburg's investigation into cycles, loops and re-treading old ground. This kinetic installation is comprised of a motor, a bamboo object and a line connecting the two. Ascending and descending so slowly that its movements are near imperceptible the bamboo 'dance' begins as a pile of sticks, transforms into an elongated, angular form and deconstructs back into an unassuming pile of sticks.
.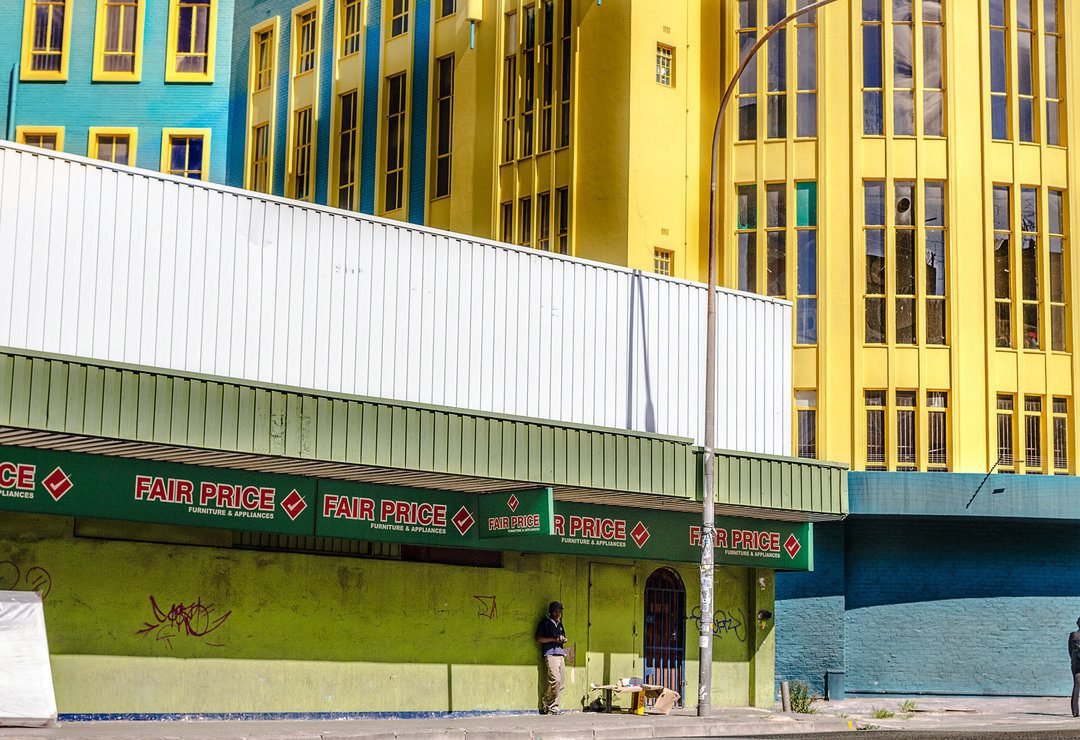 Mame-Diarra Niang, A selection from the series Sahel Gris, 2013; At the Wall, 2014 and Metropolis, 2015
Archival Pigment Prints
Presented by STEVENSON, Cape Town and Johannesburg, Booth 700
Pier 94: VIP Lounge
Mame-Diarra Niang's photographs reflect on the plasticity of territory. They are in dialogue with it and its materials. The utopic landscape that emerges can be seen as a place for memory: a constellation of emotions, beliefs and imagination, loss and solitude. It is built by signifiers and metaphor. The images are imbued with a sense of longing and they seem to scatter clues of a land that never fully materializes. Within these created worlds a human presence occasionally appears: Niang names these characters sentinelles, satellites, or sometimes vigilia. Their purpose is not clear, they don't fit in a given narrative but rather open up the possibility for the viewer to create their own imaginary territory.
.
Focus – Symposium:
This three-day Symposium examines the diverse practices of artists, curators and collectors from Africa and the Diaspora. Through a series of panel discussions and video screenings, the Symposium will examine new global phenomena in contemporary artistic production from related scenes, markets and narratives.
All panels will take place in the Media Lounge on Pier 94.
.
Thursday, March 3, 5:30-6:30PM
LOOKING BACK, LEADING THE WAY
PARTICIPANTS: El Anatsui, Artist and Sam Nhlengethwa, Artist
MODERATOR: Bisi Silva, Founder and Artistic Director, Center for Contemporary Art, Lagos
As a part of The Armory Show's Focus Symposium this panel brings together two of the most influential African artists living and creating today. Both Anatsui and Nhlengethwa have inspired a generation of young artists seeking to make their mark on the global stage. Bisi Silva will lead a discussion on their individual practices and how they continue to inspire artists working today.
.
Saturday, March 5, 12:30-1:00PM
WELCOME
INTRODUCTION: Julia Grosse and Yvette Mutumba, Founders of Contemporary And (C&) and Curators, Focus: African Perspectives
1:00-1:30PM
A SPELL THAT FLOWS BOTH WAYS
Lecture-Performance by Kapwani Kiwanga, Armory Commissioned Artist
Kapwani Kiwanga's versatile practice takes shape through video, sound and performance, relying on ephemera and collective history to inform her work. A Spell That Flows Both Ways will be a debut performance by the Armory Commissioned Artist.
2:00-3:00PM
YOUNG GLOBAL CONTEMPORARIES
MODERATOR: Yves Makongo, Curator, Doual'Art
PARTICIPANTS: Nengi Omuku, Artist; Patrick Mudekereza, Cultural Producer and Writer and ruby onyinyechi amanze, Artist
A discussion between several emerging artists with African backgrounds about their individual practices, the challenges they encounter and their goals as a generation of young global contemporaries with African perspectives. In particular, this panel will address the challenges that are posed to each as they balance their time between supporting their local creative industries, while at the same time operating on the global stage.
4:00-5:00PM
ME/WE: CREATING COLLECTIVELY
MODERATOR: Elvira Dyangani Ose, Lecturer in Visual Cultures, Goldsmith College
PARTICIPANTS: El Hadj Sy, Artist; Jenifer Evans, Co-Founder, Nile Sunset Annex and Misheck Masamvu, Artist, Village Unhu
This talk aims to create a platform for an inspiring discussion between the different generations of artists and cultural producers from the continent and the Diaspora, investigating the role of collectives and international workshops in Africa such as Laboratoire Agit'Art, the Tenq, and Triangle Workshops. These spaces have served an extremely important role in the last few decades as crucial, innovative, avant-garde centers for artistic production. This panel will address how these places have come to be, and the evolving role they play in artistic production in Africa.
.
Sunday, March 6, 2:00PM
REMARKS BY: JULIA GROSSE AND YVETTE MUTUMBA
2:30-3:30PM
COLLECTING AS AN ATTITUDE
MODERATOR: Natasha Becker, Senior Curator, Goodman Gallery
PARTICIPANTS: Kimberli Gant, Curator, Newark Museum; Pamela Joyner, Founder, Avid Partners and Kimberly Perry, Collector
This panel brings together leading female curators and collectors to discuss the recent trends and interest in collecting work by artists from Africa and the Diaspora. Together these individuals represent a group of cultural leaders and patrons who are defining a generation of artists.
4:00-6:00PM
SECTION CINÉMA
A series of artist videos titled Section Cinéma, exclusively curated by South African artist Robin Rhode
INTRODUCTION: Zoe Whitley, Curator for International Art, Tate Modern
Section Cinéma is a program of video art curated by Robin Rhode and chosen from the South Africa-based Emile Stipp Collection, which has been instrumental in building an archive of contemporary video work by emerging African and Diasporic artists. Rhode titled his selection Section Cinéma after Marcel Broodthaers' pivotal 1972 installation Musée d'Art Moderne, Département des Aigles, Section des Figures.
.